Welcome Back to my top 10. We had a few shakeup's with one new team entering the fold. We also saw some big risers and some big drops. As usual most team's I believed in, let me down. Now, let's get to it.
10. Eagles
Last week: 6
I was higher on the Eagles than most and I still am. Unfortunately their pass catchers are just too banged up. Even worse, their secondary is continuously getting roughed up. They should really look to make a Jalen Ramsey trade if they want to compete further than the divisional round.
9. Vikings
Last Week: Not in top 10
Welcome into the top ten Minnesota. Apparently openly complaining about your quarterback to the media works. Minnesota dominated the eagles with their passing attack, congrats to them on modernizing their offense. The defense got after the Eagles early and the game was never in doubt for the Vikings.
If the passing attack continues to improve, look out.
8. Seahawks
Last Week: 5
New Rule: If Baker Mayfield throws four interceptions and your team still narrowly wins, you drop in the power rankings.
Nonetheless, this team is still ranked because Russel Wilson is incredible and to flip the top complaint, the defense did force four turnovers after all.
7. Panthers
Last Week: 8
Kyle Allen is 5-0 as the team's starter and I am beginning to wonder if Cam Newton ever plays another down for the Panthers.
As I've said before Christian McCaffery is the real reason this team is winning but when it's doing as well as they are, why ruin that streak?
Just ask Tom Brady and Drew Bledsoe or so people don't flip out in the comments for comparing Kyle Allen and Brady, just ask Tony Romo and Dak Prescott.
Now, lets get Back to McCaffery:
6. Chiefs
Last Week: 4
The book is out on this team; the ground game is the way to go. It made sense for the Colts because Marlon Mack has been a formidable back dating to last season, but when you get shredded by Carlos Hyde and Duke Johnson, something is wrong.
The offense will be fine, but the defense, which experienced so much turnover in the offseason, including the coaching staff, is in real trouble.
Any team is in any game with them because it and that leaves a slim margin of error for the offense. That won't cut it come playoff time.
5. Texans
Last Week: 10
For all the insults I throw at Bill O'brien, I think it's time for a compliment: I loved what he did. He got down early but he had a game plan and he stuck with it.
Run the ball consistently and on third downs, go to your reliable all pro receiver.
If O'brien continues to coach well, this team, which has plenty of talent could take it to Tom Brady in an AFC championship.
It should also be noted that quarterback Deshaun Watson hasn't been sacked in two games, if that continues this team should run away with the AFC South.
4. 49ers
Last Week: 9
Everyone was up in arms over the niners being ranked ninth las week, So I am making good on what I said: 49ers, welcome to the top 5.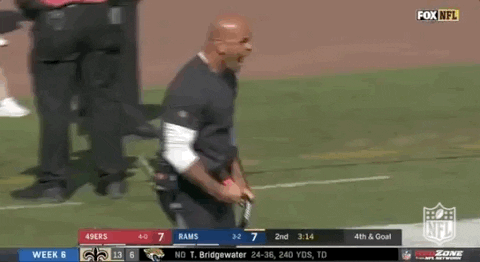 This defense is straight filthy. The way the line dominated the Rams was incredible. They just outmuscled the and believed in themselves more than any team I've seen lately. Winning is infectious.
If the offense keeps up, the rest of the NFC should be put on notice, if they aren't already.
Side note: Jimmy G is 13-2 through his first 15 career games.
And now some words for fellow writers Tariq and Anthony:
3. Packers
Last Week: 2
Green Bay takes a slide this week because the officials bailed them out in their win against the Lions.
On the bright side this is the best Rodgers has looked all season and their other back, Jamaal Williams, proved that this team can have a two headed rushing attack.
2. Saints
Last Week: 3
Teddy Bridgewater played a poor game, to be fair he played an extremely talented Jaguars defense. But, the real story is the Saints defense.
Cornerback Marshon Lattimore has also elevated his game to a level that is unmatched.
The front is already incredible and if that secondary stays locked down, I would say this team is a mostly healthy Drew Brees away from a super bowl.
1. Patriots
Last Week: 1
Whelp their defense scored 28 fantasy points and I still won my fantasy game and that's the closest thing this team will experience to defeat for a while.
They have had an extremely favorable schedule of quarterbacks but this defense is playing at a level that is starting to look like one of the best defenses ever.
It will take a really bad game for me to not be convinced that this is the best team in the league.