Up to now the NFL season has been extremely weird and it's been tough to distinguish who are the good teams and who are the bad teams. Except the Chargers, they're definitely a bad team.
Anyways, this top 10 is meant to help sort out who may have a shot at the Lombardi trophy come February.
Remember this isn't based on record, rather how good they have looked to me, so don't come in here and throw a fit niners fans when I don't have the 49ers at number two.
10. Texans
This team has a lot of problems; coaching, offensive line play, and rushing to name a few and I haven't even mentioned the defense.
But, as I've wrote before, when you have a quarterback and wide receiver combination as good as Deshaun Watson and Deandre Hopkins, you're never out of a game.
The teams inability to protect Watson will have to improve, it did this week. That may have something to do with the fact that they played the Falcons though.
I'd like to see how the team plays over their next three games (Chiefs, Colts, and Raiders) before I move them any higher on the list.
9. 49ers
It's hard to get a gage on this team. They've beaten some really bad teams: Bengals and Steelers, and they've beaten some mediocre, more bad than good teams: Bucs and Browns.
But, they're just playing who was thrown in front of them and to this point they've won every game, that alone has earned them a ranking.
Kyle Shanahan has this offense playing at an elite level, which isn't really surprising given his resume.
The real surprise is how well the defense has played. It starts with the defensive line where they are dominating the trenches, and finishes with a revamped secondary headed by veteran cornerback Richard Sherman.
If this team  beats the Rams, they may vault themselves into my top 5.
8. Panthers
I genuinely couldn't tell you if this team is better with Cam Newton at quarterback or Kyle Allen.
Really though, it doesn't matter.
Christian McCaffery is the engine that drives the team.
Through five games the man has 587 rush yards and 279 receiving yards. The team as a whole has 1,850.
That equates to 46% of the teams total yards.
It's a small sample size but it's an unbelievable number, so unbelievable that I just did the math myself on my own calculator and now I'm worried ya'll are going to roast me for my bad math skills( I swear the numbers are accurate.)
Regardless of the quarterback, when you have a player doing what CMC is doing and a sound defense that the Panthers have, you're going to do some damage.
Look for this team to continue heating up.
7. Cowboys
Aaron Rodgers effectively owns the Cowboys so I don't want to read too much into this game, but the Cowboys got down big this week before they were able to make any noise and that tells me they were unprepared.
The offense was coming in off of a disappointing showing against the Saints and really needed a big game, but they came out flat for most of the first half. They had a valiant comeback attempt, but it's the Packers, they hate leads.
This sounds like a lot of hate, but this is my justification for not putting them in my top 5.
We all know their strengths by now, to be honest they have a lot.
Dak has made huge strides this year, Zeke is still Zeke, despite an extended trip to Cabo, Amari Cooper has continued to show that he may have been worth that draft pick and the defense is as solid as ever.
So, why is this still losing the big games?
Look no further than Jason Garret, the team has a clear ceiling with him as the coach.
He makes me weary to put the Cowboys any higher. We will know more after their game with the Eagles.
6. Eagles
The Falcons loss is getting more and more inexcusable by the day.
With that being said the Packers win is getting better by the day.
The Eagles receivers were destroyed by injuries to start the season, but they're slowly getting better. It looks like the team is starting to settle in with Jordan Howard taking the most snaps at running back and as this team gets healthier I expect them to get more and more stable.
This is one of the most talented rosters in the league, if  Carson Wentz can stay healthy this season, watch out for them in February.
5. Seahawks
Russel Wilson is extremely slept on. I blame the Seahawks.
For years they have been reluctant to let Russel Wilson fly.
Like, Terry Hoitz from The Other Guys, he's a peacock, you got to let him fly.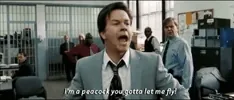 I love that movie so I'm going to fit it into the conversation whenever I can.
Back to are regularly scheduled programming.
Wilson can ball and his receivers have been better than expected given the fact that they lost their best receiver to retirement this past year.
The addition of Jadeveon Clowney has also given the teams defense a boost.
You're just never out of a game with someone like Wilson and that's valuable when the playoffs come around.
I mean just look at this throw:
4. Chiefs
Speaking of guys you're never out of a game with, we've reached the pat where we praise Patrick Mahomes for being amazing.
Psyche.
This site is ran by Raiders and Chargers fans, did you really think I'd praise Mahomes?
In all seriousness Mahomes is an unstoppable force that makes me nervous on literally every single play, no matter the down or distance.
This Chiefs team has showed some weaknesses though.
The outline to beat this team is to run the ball down their throats and control the time of possession. Can't you just see Sony Michel having 175 yards and three touchdowns in the AFC championship game?
I know. Barf. But like Thanos, the Patriots are inevitable.
3. Saints
Teddy Bridgewater had a great game this week.
He's still no Drew Brees.
Imagine how good this team could be if the defense continues to play at the level they're playing at when Brees comes back.
Nobody will beat them, I almost guarantee they'll be in the super bowl.
In the meantime their stuck with Teddy and that's what's keeping them out of the top two.
2.  Packers
This team can jump on you in a hurry, luckily for those of us who  like to be entertained, they hate to keep a big lead.
Here's what I want to see for them to make that leap and play in the super bowl: keep beating the team down after a big lead, they've let almost every team back in the game after getting a sizable lead and continue to use Aaron Jones.
Currently, the defense is playing at an elite level. This is the least amount of work Rodgers has ever had to do in order to get his team the win.
If Rodgers just needs an average game to beat you, well you may as well not even show up(something Jay Gruden should've done for that 5 am meeting.)
1.  Patriots
Unlike the Browns, this team is as advertised. The defense has scored more touchdowns than it's allowed.
IT'S WEEK 5.
WHAT?!
At this point in time I am not aware if this team is beatable. And with their next three games against the Giants, Jets, and Browns; we won't find out any time soon.
Tom Brady has to age at some point, right?
These running backs can't always be RAC wizards, right?
I mean the team literally gives away what they're going to do before the play. If Sony Michel is in, it's a run. He can't catch.
If it's James White, it's very likely a throw.
Defensive coordinators, you have a huge advantage.
Yet, they still outplay everyone every week.
They're the Patriots.
They're the best.
It's been that way for as long as I can remember watching football.